Biology: Frizzled receptors in development and disease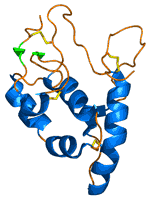 Our laboratory has focused for the past two decades on a large family of cell-surface receptors called Frizzled. This name refers to the appearance of fruit flies in which the receptor gene is mutated: the hairs and bristles on the body surface of Frizzled mutant flies are oriented inappropriately. In mammals, including humans, there are ten closely related Frizzled genes. In the mid-1990s, we showed, in collaboration with the laboratory of Roel Nusse at Stanford, that the principal ligands for Frizzleds are the Wnt proteins. There are 19 Wnt genes in mammals, and current evidence suggests that each Frizzled can bind to multiple of Wnts and each Wnt can bind to multiple Frizzleds. To add to the complexity, three distinct types of signals can be sent from Frizzled receptors to the cell interior.
Our current focus is on defining the roles of Frizzled receptors in mammalian development. The foundation of our approach is the production and analysis of mice carrying targeted null or conditional null mutations in one or more Frizzled genes. We have constructed such lines for each of the ten Frizzleds, as well as for other genes that act in the same signaling pathways. This genetic analysis has revealed both diversity and unity in the functions of different Frizzled receptors, and has revealed the requirement for Frizzled signaling in a wide variety of developmental contexts, including axon guidance, vascular growth and differentiation, inner ear development, neural tube and palate closure, kidney development, and hair orientation on the body surface.
In the context of vascular growth and differentiation, we identified a novel ligand (Norrin) that acts exclusively on the Frizzled (Frizzled4) that controls vascular development. In humans, mutations in the Norrin or Frizzled4 genes, or in genes coding for a co-receptor (Lrp5) or chaperone (Tspan12) produce vascular defects similar to their mouse counterparts. Current experiments are aimed at (1) identifying additional roles for Frizzleds in mammalian development, homeostasis, and disease, and (2) elucidating the molecular logic of Frizzled signaling.