The Mechanism and Regulation of DNA Transposition Reactions

Summary: Our work is focused on the molecular mechanisms by which transposable elements move and how they can be exploited for genome engineering. These elements are discrete pieces of DNA that can move between many different insertion sites. They are present in virtually all organisms and contribute to both genome structure and function. We study the bacterial transposon Tn7 and several members of the eukaryotic hAT and piggyBac superfamilies.
Despite the essential role of DNA in maintaining accurate genetic information, this molecule displays a surprising degree of plasticity. DNA rearrangements—the reorganization of DNA sequences by breakage, translocation, and rejoining reactions—mediate a wide variety of fundamental cellular processes. These rearrangements play an important role in genome evolution, in the acquisition of new genetic elements such as viruses, in the control of gene expression during development, and in the repair of damaged DNA. We are particularly interested in the type of recombination called transposition, in which a discrete DNA segment moves from one donor position and inserts into another, nonhomologous target site.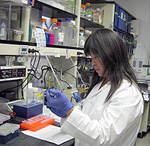 Transposable elements have been identified in virtually all organisms. Strikingly, about half the human genome and most mammalian genomes are composed of DNA sequences related to these elements, which can have profound effects on genome structure and function. For example, transposon insertion into a gene will likely inactivate that gene; transposon insertion into DNA sequences that control the expression of nearby genes may inactivate or activate those genes. Indeed, the movement of transposable elements has resulted in a number of human diseases.

We are interested in understanding transposition at the molecular level, identifying host factors that may influence transposition, and identifying the roles of transposable elements in genome evolution. We are also applying our understanding of transposons to make better tools for genome analysis and engineering in several organisms, including mammals. More »