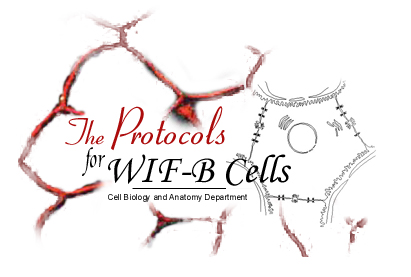 | Publications | Culture Medium: Current | Culture Medium: Old | Culture Conditions | Recipes: Current | Recipes: Old | Cell Thawing | Cell Characteristics | Subculture: Current | Subculture: Old | Quality Control | Cell IMF Protocols | Preservation (Cell Freezing) | DNA Delivery |
Culture Conditions:
7% CO2 atmosphere
37° C temperature
Medium is renewed (changed) three times a week (ex. For 10 cm dish: 15 ml on Mon. and Weds., 20 ml on Fri).
Cells are grown on tissue culture dishes (e.g. Falcon #3003 10 cm tissue culture dish (TCD)), and glass cover slips.
A confluent (1.5 x 105 cells/cm2) container is split 1:4-16 (see subculture protocol).
If cells are being grown for routine maintenance, the cells should be passed approximately every 10 days, when the cells have been sown at a density of 1-2 x 105/10 cm dish.