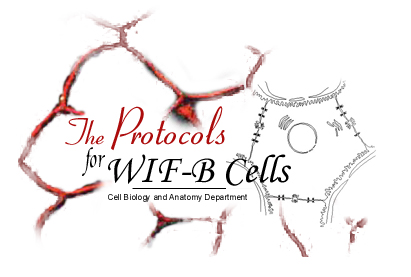 | Publications | Culture Medium: Current | Culture Medium: Old | Culture Conditions | Recipes: Current | Recipes: Old | Cell Thawing | Cell Characteristics | Subculture: Current | Subculture: Old | Quality Control | Cell IMF Protocols | Preservation (Cell Freezing) | DNA Delivery |
Subculture (Current)
Propagation of WIF-B cells (2-28-05 update)
General Comment: We have revised our culture conditions to minimize cell death and the "crashing phenomenon". Using the protocol below, the cells plated on coverslips now survive at least 14 days and sometimes longer, maximum polarity is observed between 12 and 14 days.
Reagents:
Medium: Complete F-12 Coon's Modification with 5% Serum and supplements, warmed
Trypsin: Any Commercial product approved for tissue culture
Coverslips: No 1 1/2, 22mmx22mm (VWR cat no 48366227)
Cells: 10-14 day cells cultured on Nunc plates
Dishes:

2-3 Nunc 10 Cm (Cat No 172931) dishes labeled with cell designation, passage and Date
2-3 Falcon 10 Cm dishes (3003) with 6 coverslips heat sealed to bottom of dish and labeled with cell designation, passage and date.
Procedure:
Remove medium from 1 dish of cells by aspiration, suck dry.
Add 2 ml of trypsin to cells, roll over surface of plate to cover completely
Incubate at 37 or in Laminar Flow hood 3-5 minutes, tap every minute to knock cells from plate.
Place 4 ml of medium in a 15 ml conical tube (Sterile)
Using a 5 ml pipet, pipet trypsin up and down to rinse cells from surface of dish, when cells are removed, transfer to 15 ml nical tube with medium. Invert tube to mix.
Using a Pasteur pipet, remove a sample of cell suspension, load haemocytometer and count cells. Meanwhile, pellet cells in clinical centrifuge for 5 min.
Remove medium from cell pellet, add enough medium to pellet to give a cell suspension of 5x105 cells/ ml.
Add 15 ml Complete medium to all dishes. Add 5x105 cells (1 ml) to dishes with cover slips and 3x105 cells (0.6 ml) to Nunc dishes. If making extra dishes for biochemical studies, add 5x105 cells (1 ml) to Nunc dishes containing 15 ml of Complete Medium. Discard left over cells.
Maintenance:
7% CO2 at 37c
Monitor integrity of cell culture, evaluate polarity and debris, record findings.
Feed cells in 10 Cm dishes with 15 ml of Complete Medium on Monday and Wednesday and 20 ml on Friday.
Move individual coverslips into 6 Cm dishes 2-3 days after plating. Feed cells in 6 Cm dishes with 4 ml of Complete Medium Monday, Wednesday and Friday.